---
Direct wire harness for Pioneer Headunits (fits 2001-2015 Mazda - See compatibility information below)
Item Number: AHH-70-7903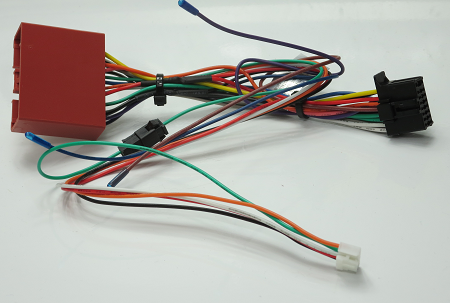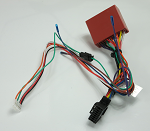 Description:
This harness is the simplest way to install a Pioneer headunit in your Mazda. It is pre-wired with the Pioneer connector on 1 end and the Mazda connector on the other.
What's included:
The Vehicle Speed signal is connected (This must be cut for Pioneer units that don't require a vehicle speed input)
Steering Wheel Control wires are connected. The Maestro SW connector (this is the white connector in the picture above) is pre-wired and will be plug-and-play once the Maestro unit is configured properly using the iDatalink Maestro web utility.
Amp Turn-on/Trigger signal is provided for use with an E-brake bypass or for using an aftermarket amplifier.
Reverse and E-brake signals are provided from the Pioneer connector since they will need to be connected elsewhere on the vehicle.
Installation instructions are provided with your adapter.
Installation:
1) Just connect both ends (to the Pioneer and to the Vehicle)
2) Configure the Maestro SW for use with your vehicle. Connect it to the Pioneer unit using the adapter that came with the Maestro SW and Connect the white connector on this harness to the Maestro SW.
2) Connect the E-brake signal (Reverse is needed only if you will be connecting a backup camera)
3) If the Pioneer headunit does not have a GPS antenna, cut the PINK Vehicle Speed Signal wire, which has a tag on it. (This wire is used for a different function on non-navigation Pioneer headunits)
Fitment:
(This is NOT a complete list. Please help us update it. If a known model is not listed, let us know)
Mazda
Mazda 3 2004-2013
Mazda 6 2009-2015
Mazda 626 2001-2002
Mazda CX-3 2016
Mazda CX-5 2013-2016
Mazda 2 2011-2014
Mazda 5 2006-2015
Mazda Millenia 2002
Mazda MPV 2003-2006
Mazda MX-5 Miata 2001-2015
Mazda Protege 2001-2004
Mazda Tribute 2002-2006
This harness will fit any 2014 or newer Pioneer headunit with a video screen.
(If your unit does not have a video screen, slight modification may be necessary. Please ask us)
Pioneer AVH-1330NEX
Pioneer AVH-190DVD
Pioneer AVH-210EX
Pioneer AVH-290bt
Pioneer AVH-291BT
Pioneer AVH-2330NEX
Pioneer AVH-2400NEX
Pioneer AVH-2550NEX
Pioneer AVH-200EX
Pioneer AVH-4200NEX
Pioneer AVH-500EX
Pioneer AVH-600EX
Pioneer AVH-601EX

Pioneer AVH-W4400NEX
Pioneer AVH-W4500NEX

Pioneer AVH-X2800bs
Pioneer AVH-X391BHS
Pioneer AVH-X4800bs
Pioneer AVH-X490bs
Pioneer AVH-X491BHS
Pioneer AVH-X7800BT

Pioneer AVIC-5100NEX
Pioneer AVIC-5200NEX
Pioneer AVIC-5201NEX
Pioneer AVIC-6200NEX
Pioneer AVIC-6201NEX
Pioneer AVIC-7200NEX
Pioneer AVIC-7201NEX
Pioneer AVIC-8200NEX
Pioneer AVIC-8201NEX
Pioneer AVIC-W6400NEX
Pioneer AVIC-W8400NEX
Pioneer DEH-80PRS

Pioneer MVH-AV290BT
Pioneer MVH-2400NEX
Pioneer MVH-300EX
Pioneer MVH-S310BT
Pioneer SPH-DA02 AppRadio
Pioneer SPH-DA01 AppRadio
Pioneer SPH-DA120 AppRadio 4
Pioneer SPH-DA210 AppRadio 3
Pioneer SPH-DA100 AppRadio 2
Pioneer SPH-10BT
and MANY more...
Purchase:
Price:$19
---
Aftermarket headunits available for installation in your Mazda
Similar Products:
Metra 70-7903
Scosche MA03B
---
www.autoharnesshouse.com
inquiry@autoharnesshouse.com