Modify a Pioneer Direct Wire adapter to work with a Pioneer Headunit that does not have an LCD screen
By Brian Doll, AutoHarnessHouse.com Technical support, April 2020
Introduction:

AutoHarnessHouse.com provides Pioneer Direct Wire adapters for a number of vehicle models. These adapters drastically simplify the installation of an aftermarket Pioneer headunit because most of the wiring connections between Pioneer headunit connector and the OEM connector in the vehicle are already done. Since the splicing of these wires is often the most tedious and error prone part of an audio installation, these adapters will help to keep the wiring clean and simple. In addition, aftermarket wiring adapters normally don't include wires for the steering wheel controls, reverse signals, or vehicle speed signals. If these signals are available in your application, we will include the wires in our wiring connectors so that you can connect to these signals without damaging factory wire.
The Issue:

The AutoHarnessHouse.com Pioneer Direct Wire adapters are designed to connect to Pioneer headunits that have an LCD screen since this includes the majority of the Pioneer headunits that are sold. However, Pioneer sells headunits that do not have an LCD screen and are wired slightly differently. Have no fear! The Pioneer connector is identical in both cases and the wiring is mostly the same. One wire is different. Since these headunits do not have an LCD screen, a reverse camera is not an option and the reverse signal will not be connected to the back of the headunit (There is no "Reverse Signal" input on these units). Pioneer has wired the "Amp Trigger" signal to the pin that we would ordinarily use for the "Reverse Signal" input. The guide below will show you exactly how to fix this!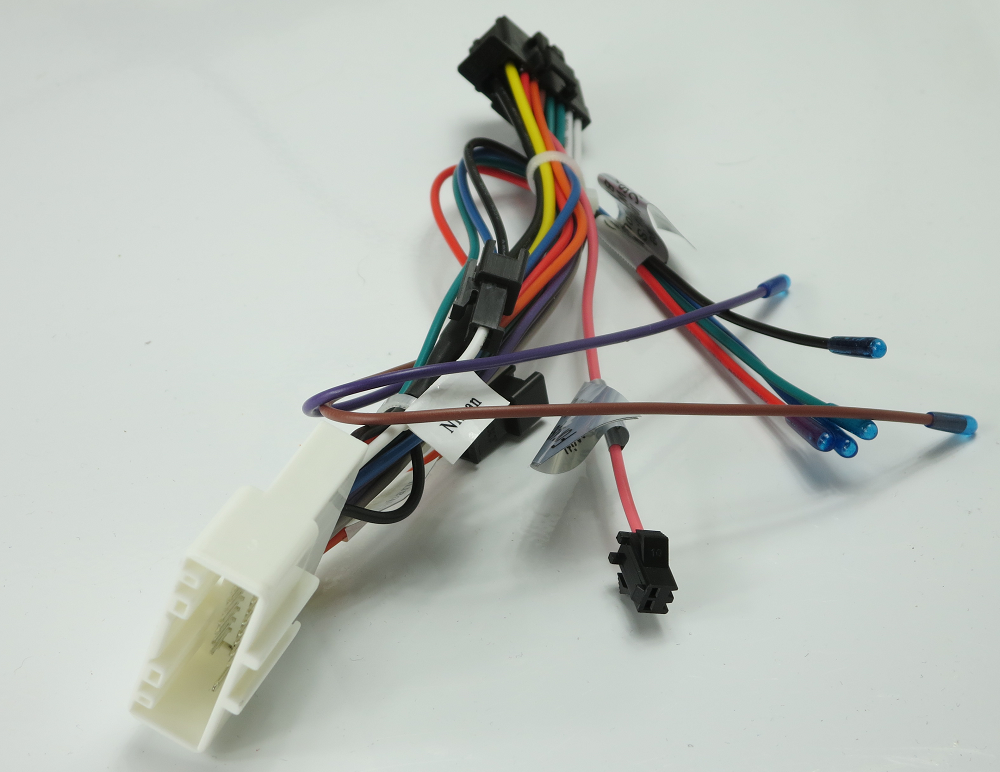 ---
List of Headunits Affected
While it would be nearly impossible for me to generate a list of every model of Pioneer headunit that does not have an LCD screen, this list is my best shot. It is not an all-inclusive list but it will provide a list of some of the common headunits that will require this wiring alteration: (I did verify that each of these units is compatible with the direct wire adapter once the modification below is complete)


DEH-150MP
DEH-80PRS
DEH-S1010UB
DEH-S31BT
DEH-S4000BT
DEH-S4010BT
DEH-S4120BT
DEH-S4220BT
DEH-S5010BT
DEH-S5100BT
DEH-S6010BS
DEH-S6220BS
DEH-X3910BT
DEH-X4700BT
DEH-X4800BT
DEH-X4900BT
DEH-X6500BT
DEH-X6600BT
DEH-X6700BT
DEH-X6800BT
DEH-X6900BT
DEH-X7800BHS
DEH-X8800BHS
FH-S500BT
FH-S501BT
FH-S51BT
FH-S520BT
FH-S52BT
FH-S700BS
FH-S701BS
FH-S720BS
FH-S722BS
FH-X520UI
FH-X700BT
FH-X70BT
FH-X720BT
FH-X721BT
FH-X730BS
FH-X731BT
FH-X820BS
FH-X830BHS
MVH-S21BT
MVH-S215BT
MVH-S300BT
MVH-S301BT
MVH-S310BT
MVH-S322BT
MVH-S420BT
MVH-S512BS
MVH-S522BS
MVH-S622BS
MVH-S720BHS
If your headunit isn't listed here, you can check the wiring connector that came with your headunit from Pioneer. It will either have the blue wire in the slot as pictured below or it will be in the purple wire's slot.
---
Modifying your Adapter
If you are still reading, you've probably determined that you will need to move the Amp trigger signal on the direct wire adapter to fit one of the headunits listed above. Here's what you need to do!
1) Find the blue and purple wires
There are 3 Purple wires on the direct wire harness. You will ONLY be using the purple wire that is between the blue and black wire. Find the blue and purple wire:
2) Cut both the blue and purple wires
Note that I have not cut both wires in the same location. Cut the blue wire shorter than the purple wire. This will leave room to make the connection in the next step: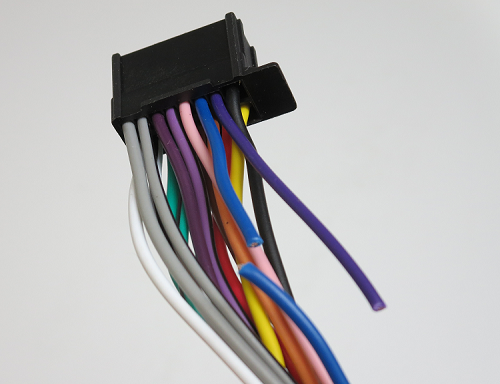 3) Connect the purple wire to the blue wire
Solder the wires or crimp them if you do not have the tools to solder.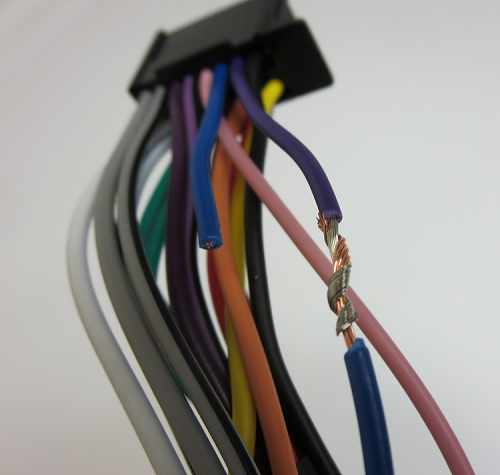 4) Cover or wrap the connection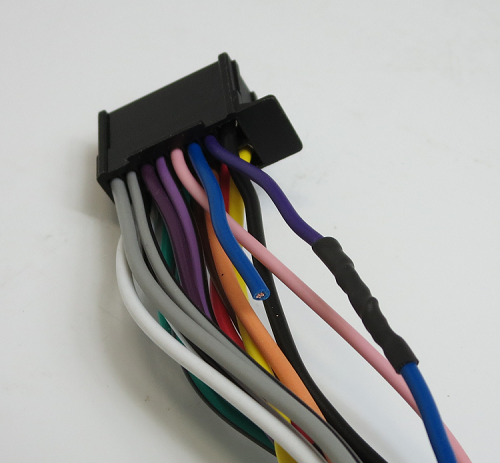 ---
Final Thoughts
We wish you the best with your install! Our support team is here and happy to help if you have questions. Email us at inquiry@autoharnesshouse.com if there is anything that we can clarify or if you need something more custom than the standard, recommended set of parts for your vehicle.
---
www.autoharnesshouse.com
inquiry@autoharnesshouse.com