---
Backup Camera Harness - Fits Toyota/Subaru/Scion
Item Number: 7549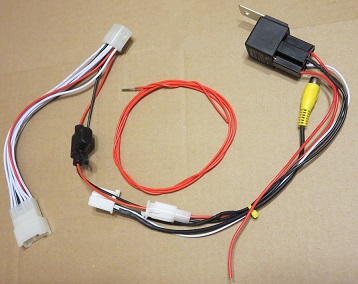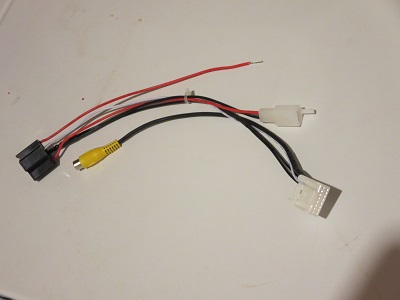 Description:
Add a backup camera to your car or truck! This harness connects a 12-volt Backup Camera to the stock Toyota/Subaru/Scion head unit. The stock head unit is wired with a 6-volt output. This harness uses a 6-volt relay and the 12-volt accessory power provided to the stock head unit to provide a 12-volt output and composite video input for any standard automobile backup camera.
The harness connects in the place of the 16-pin connector pictured here. It will also ground the E-brake input into the head unit, which may enable some additional functionality while the car is in motion.
You will receive:
-1 Backup Camera Harness(Includes connections for 12-volt jumper harness, 16-pin head unit connection, Composite Video input, Relay, and 12-volt output lead)
-1 12-Volt splice harness(T-harness)
-1 Relay (6-volt input coil)
-1 Butt connector to connect 12-Volt output from harness to the backup camera
The harness is 100% plug and play. No splicing the stock wiring harness. Does not disturb stock appearance. The only exception is the Reverse Trigger Wire. Most vehicles have this wire pre-installed. If yours does not, the included pin slides into the stock connector, but the wire other end of the wire must be spliced to a reverse signal(such as the reverse light or the signal wire located in the driver's side kick panel). A splice connector will be included for completing this connection.
Purchase:
**If your vehicle does not have the reverse trigger wire already installed on the head unit, you will need an additional wire to properly install this harness. This wire splices into your existing harness. A splice connector will be included. For more information on the Reverse Trigger Wire and installation, see the information page HERE**
Error! - Please enable Javascript
Price: $30 + $2 (includes reverse trigger wire)
Price: $30
Installation:
Installation instructions will be shipped with the harness. In addition, the basics of the installation are depicted here: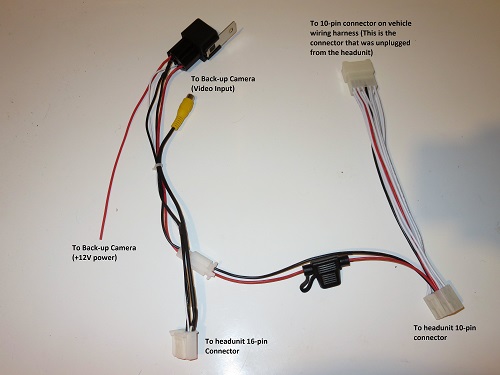 (click to enlarge)
Compatibility:
2013-2013 Toyota Avalon (For 2014+ models, see here)
2012-2013 Toyota Camry (For 2014+ models, see here)
2012-2013 Toyota Corolla (For 2014+ models, see here)
2013 Toyota Highlander without Navigation (For 2014+ models, see here)
2013 Toyota Highlander Hybrid without Navigation (For 2014+ models, see here)
2012-2014 Toyota Prius
2012-2014 Toyota Prius v
2012-2014 Toyota Prius c
2013 Toyota RAV4 (non-EV) (For 2014+ models, see here)
2013 Toyota RAV4 EV (For 2014+ models, see here)
2013 Toyota Sequoia (For 2014+ models, see here)
2012-2013 Toyota Tacoma (For 2014+ models, see here)
2012-2013 Toyota Yaris (For 2014+ models, see here)
2013-2014 Toyota Venza (For 2014+ models, see here)
2013 Toyota 4Runner (For 2014+ models, see here)
2013-2015 Scion FR-S with BeSpoke Head Unit or Touchscreen OEM Headunit
2012-2015 Scion iQ with BeSpoke Head Unit or Touchscreen OEM Headunit
2012-2015 Scion xB with BeSpoke Head Unit or Touchscreen OEM Headunit
2012-2015 Scion xD with BeSpoke Head Unit or Touchscreen OEM Headunit
2012-2015 Scion tC with BeSpoke Head Unit or Touchscreen OEM Headunit
2013-2015 Subaru BRZ
2012-2015 Subaru Impreza with OEM Fujitsu Ten Navigation
2012-2015 Subaru WRX (STI) with OEM Fujitsu Ten Navigation
2012-2015 Subaru Forester with OEM Fujitsu Ten Navigation
Related Products:
Additional 28-pin or 16-pin connector socket pins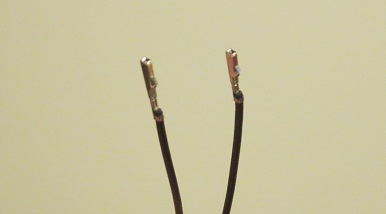 Similar Products:
Beat-Sonic BCUS3

---
www.autoharnesshouse.com
inquiry@autoharnesshouse.com