---
Toyota Mirror-tap adapter - Dashcam Power Adapter, Also works for Radar Detector, Connects to Rearview Mirror for power source, Easy to Install
Item Number: 1058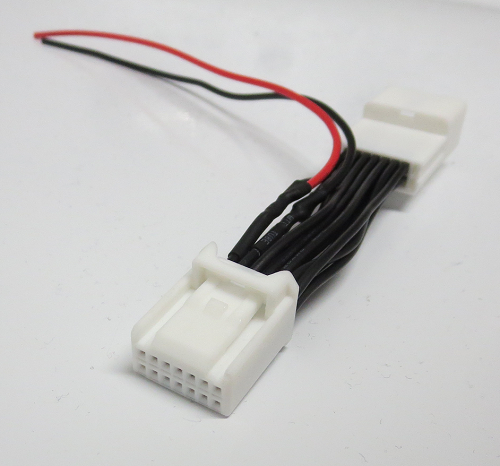 Description:
This adapter is a dashcam power adapter to fit most 2nd Generation Toyota vehicles (only vehicles that have the powered Auto-dim mirror). The adapter will give you a +12V power signal at the mirror without running wires or tapping into your vehicle wiring. It is an easy way to power a dashcam, radar detector, or other windshield mounted accessory!
The adapter will fit Toyota and Lexus vehicles with the 14-pin connector at the mirror:
Toyota Tacoma Backup Cam LCD Mirror 2005-2015
Toyota FJ Cruiser Backup Cam LCD Mirror 2010-2014
Lexus GX460 w/ Auto Highbeam System 2011-2019
If you have the backup camera in your mirror and would like to move the image to the headunit, we can also help you this this. We can customize this adapter to give you the reverse signal and video feed that can be routed to an aftermarket headunit! (please email us at inquiry@autoharnesshouse.com)
The Red wire on this adapter is +12V (ignition switched) and the black wire is chasis ground.
Purchase:
Price: $37
---
www.autoharnesshouse.com
inquiry@autoharnesshouse.com