30-pin Subaru Harman Kardon and/or Toyota JBL Amp jumper
This wiring adapter will ONLY WORK FOR SELECT vehicles WITH HARMAN KARDON or JBL. If you are adding an amplifier to your Harman Kardon/JBL vehicle, it will be necessary to tap into the audio signals at the output of the OEM amplifier. The reason for this is that the OEM amplifier will perform volume control and equalization functions that will not normally be performed in an aftermarket amplifier. Simply put, you won't be able to control the volume in your vehicle unless both the amp and heaudnit are installed and working in tandem. This jumper allows the customer to tap and splice the speaker signals to add a subwoofer or to amplify the speakers in the car without hurting the factory wiring. If you need subwoofer "breakout" wires, please email us at inquiry@autoharnesshouse.com immediately after you order and let us know which speaker signals you would like us to break out for you. Some customers use the Woofer/Subwoofer signals for this and others will use the front door speakers since these tend to be close to Full-Range audio signals. We are here to help! If you have any questions, please ask!
Item Number: AHH-7881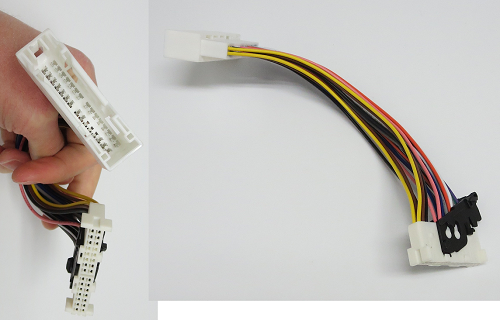 We've already mentioned this, but please do not buy this if you do not have a vehicle with Harman Kardon or JBL system - non-Harman Kardon vehicles don't have this connector!
Price: $68
24-pin Subaru Harman Kardon and/or Toyota JBL Amp Turn-on adapter - (JBL and HARMAN KARDON VEHICLES ONLY)
Item Number: 7583
This adapter is for the other connector on the Harman Kardon/JBL amp. This adapter has the +12V ignition wire connected to it. The 30-pin adapter above does not have an "Amp Turn-on" or +12V ignition switched wire. The 24-pin adapter has a +12V ignition switched signal connected to it and that wire will be broken out for you. If you need a turn-on signal for the amp, then you can connect to it on this wiring adapter. You don't need to buy this adapter unless you need to connect to the ignition turn-on wire because none of the other signals on this wiring adapter are useful for a subwoofer installation.
Price: $25
---
www.autoharnesshouse.com
inquiry@autoharnesshouse.com